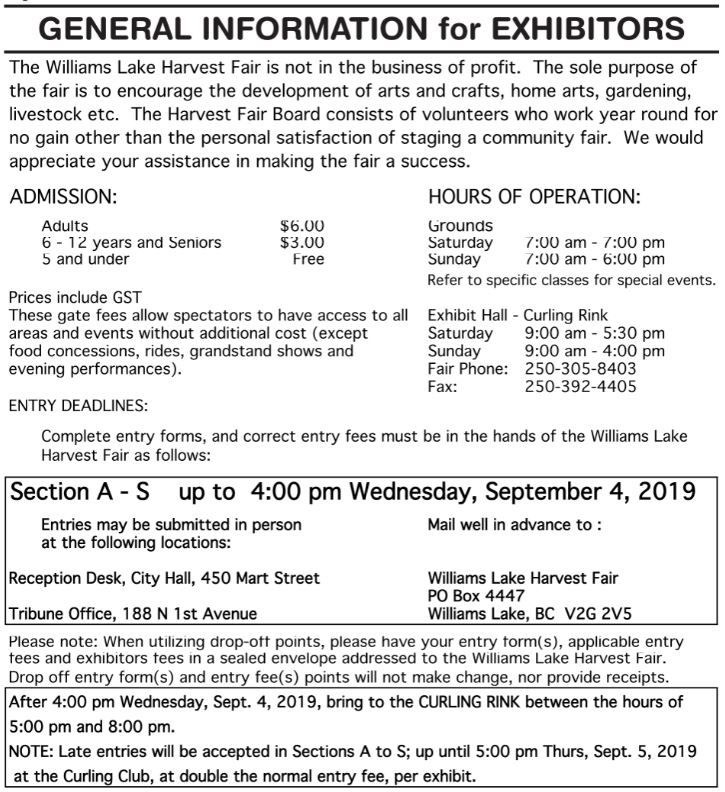 ---
GENERAL RULES for EXHIBITORS
---
ENTRIES:
1 Unlimited entries allowed unless otherwise stated.
2 Entry fees will be $0.50 per entry, unless otherwise stated in section.
3 Prize money will be: 1st $2.00, 2nd $1.50, 3rd $1.00,unless otherwise stated.
4 Prize money must be picked up in person Sunday afternoon prior to the close of the fair. Any prize money remaining will revert to the Williams Lake Harvest Fair. Prize money will not be available before 4:00 pm.
5 Entry fees will not be refunded for exhibits not entered, except where specifically stated.
6 Entries must not have been exhibited at the Williams Lake Harvest Fair in previous years.
7 All entries must be the work of the exhibitor. Exhibitor's name must not appear on any exhibit, or be appropriately covered.
8 Entries entered in wrong classes will be disqualified at time of judging.
9 Please read the rules at the beginning of each section that you enter.
10 All exhibits, except for entries in Sections R and S, must be brought to the exhibit building - Curling Rink, and arranged between the hours of 1:00 pm and 5:00 pm Friday, September 6, 2019. Any exhibitor with more than 20 exhibits must start arranging before 4:00 pm.
11 Exhibits must be left until 4:00 pm, Sunday, September 8, 2019. Any article or display left in the building or on the grounds after the close of the fair is left at the owner's risk.
12 Exhibits shall not be priced or sold while on display.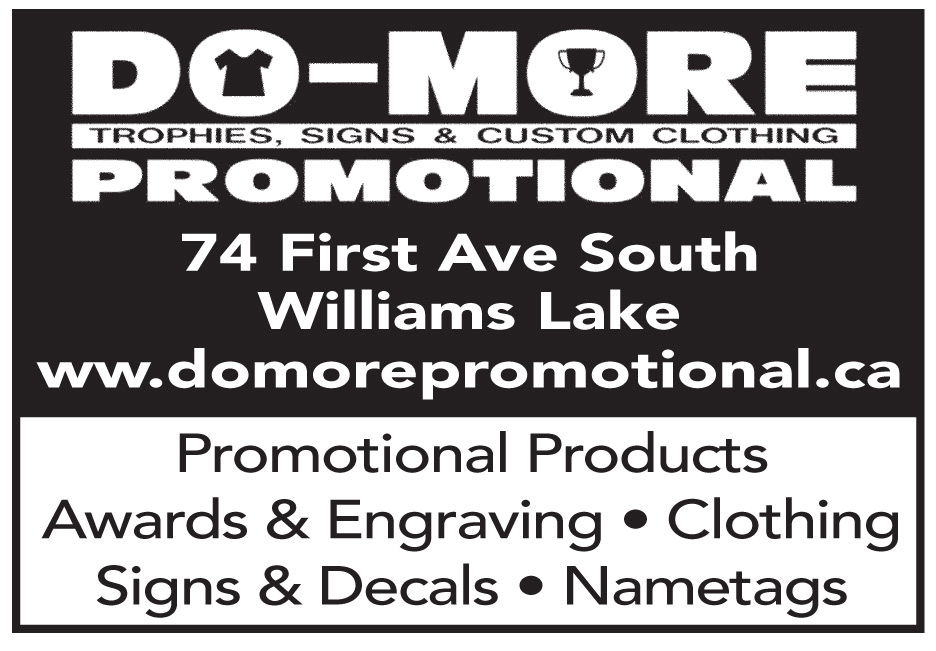 JUDGING:
13 Judging of exhibits in Sections A - S will commence 6:00 pm, Friday, September 6, 2019 and continue on Saturday until 9:00 am. The public is barred from the exhibit building - Curling Rink, during judging.
14 Points awarded are: 1st - 3 points, 2nd - 2 points, 3rd - 1 point.
15 Fruits, flowers and vegetables must be correctly named in variety or points will be lost. It will be the responsibility of the exhibitor to enter variety names on the entry tags when they are picked up on Friday, September 6, 2019.
16 All fruits, field crops, vegetables and domestic science will be judged according to the Standards Of Perfection as issued by the BC Ministry of Agriculture, Fisheries and Food. Information may be obtained from the BC Ministry of Agriculture, Fisheries and Food Department, 300-640 Borland Street, Williams Lake, BC.
17 In the absence of competition in any class, judges will give only such prizes as they deem worthy, or no prize at all. After the completion of judging, all entry tags will be opened.
18 Should there arise any dispute not governed in the bylaws or rules and regulations of the Williams Lake Harvest Fair, it shall be referred to the Williams Lake Harvest Fair Association Board, whose decision shall be final. All protests and appeals must be lodged with the Secretary in writing and accompanied by a $10.00 deposit by 1:00 pm on the last day of the fair. If the complaint is upheld, the deposit will be refunded.
GRAND AGGREGATE RULES:
19 Groups, clubs or associations are not eligible to win the Grand Aggregate Trophy.
20 The Grand Aggregate Trophy goes to the individual with the greatest number of total points (individual must enter using the same name in three or more sections to be eligible).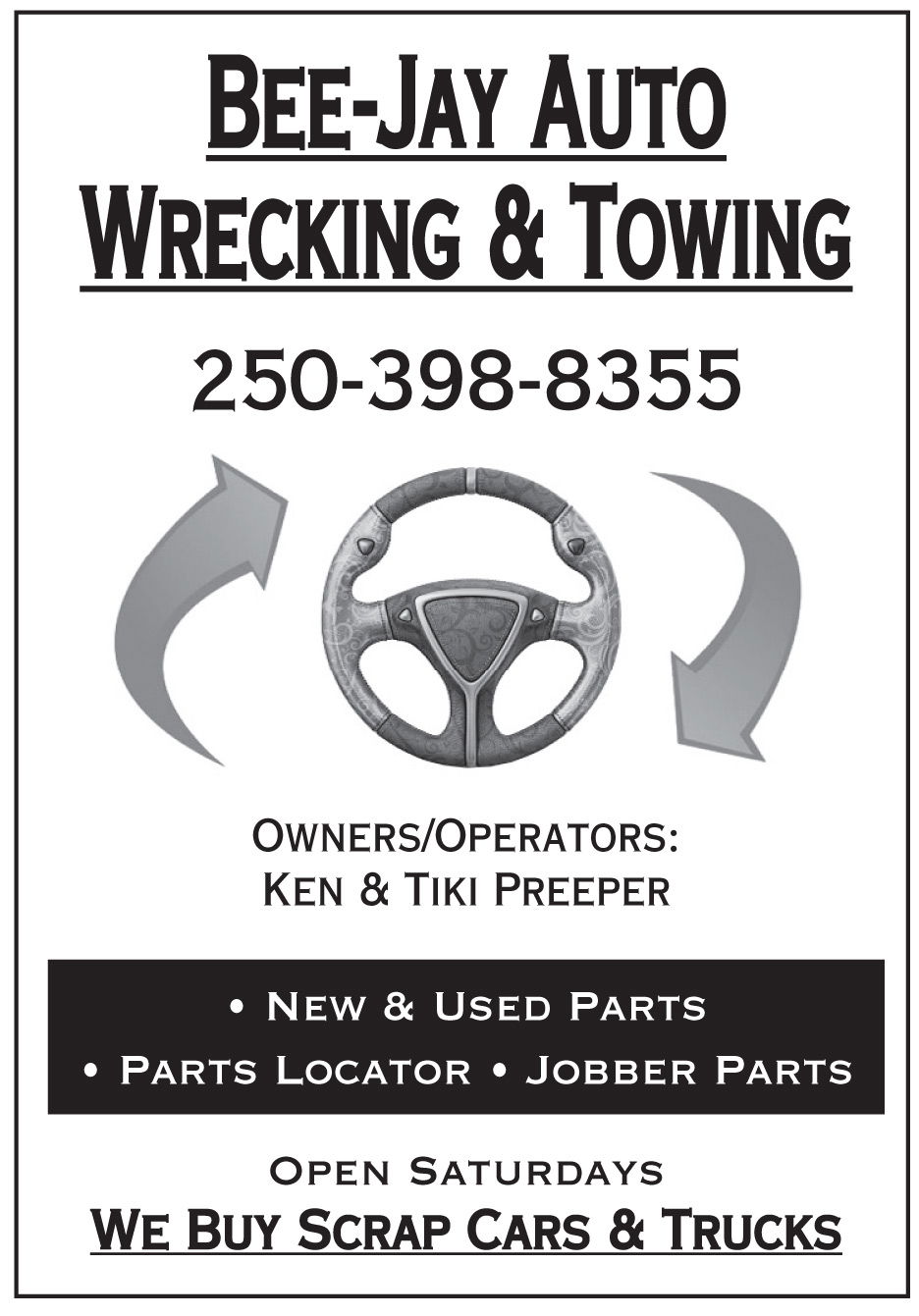 MISCELLANEOUS:
21 Every care will be taken with the exhibits, however, the Harvest Fair Board will not be liable for the loss to any exhibitor occasioned by fire, theft, accident, condition or structure, or by the negligence of other exhibitors, officials, spectators or otherwise howsoever.
22 No claim for injury to any person or property shall be asserted of suit instituted, or maintained against the Williams Lake Harvest Fair Board or their agents by, or on behalf of, any visitor, exhibitor, and/or person, form or corporation or their agents, representatives, servants, or employees having license, privilege, to visit or exhibit on the grounds of the fair or occupying any space thereon.
23 The Williams Lake Harvest Fair reserves the right to refuse anyone entry.
24 In case there are insufficient funds to pay prizes in full, they will be paid prorate.
25 AMATEUR: One who pursues his or her interest for pleasure and enjoyment only and not for monetary gains.